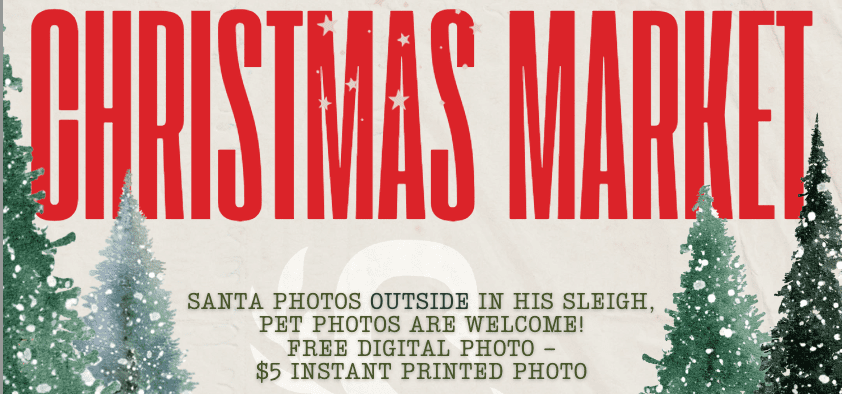 December 2
@
10:00 am
–
December 17
@
2:00 pm
OUR CHRISTMAS MARKET STARTS ON SAT DEC 2ND!
Saturday December 2nd is the first day of the Christmas Market that runs the first three weekends in December from 10am – 2 pm every Saturday and Sunday until December 17th.
SANTA PHOTOS FOR BOTH KIDS AND PETS OUTSIDE IN SANTAS SLEIGH – FREE DIGITAL COPY OR $5 INSTANT PRINTED COPY
FRESH CUT CHRISTMAS TREES FOR SALE
LIVE MUSIC
OUTDOOR FIRE SIDE SEATING
FOOD TRUCKS
PUBLIC MARKET WITH MANY VENDORS & ARTISANS
& MORE INCLUDING KIKI THE ECO ELF ON DEC 2ND
Come see us at the Public Market this weekend from 10am – 2pm daily. There will be Vendors, Artisans, FREE Speciality or Drip Coffee Sunday (with any purchase) and a great seating area with a fire to enjoy them at!
Vendors & Artisans- Want a Hut at our Public Market? Here's How!
Below is the weblink for our Scheduling site called Skedda, Huts are $20.00 for the entire day.
Some easy rules to remember for this season:
We will help with electrical for lights for the huts, you can configure the hut on how you want it to look, but everything has to be taken down by end of your booking
You can book a hut for 2 days in a row, and leave your goods in the hut, but I'd recommend bringing your own lock.
When it begins to get colder, we recommend that you have your own propane heater, we won't supply electricity for other heaters, our system can't carry the load for this many huts.
When you book on Skedda, please book the entire day, 10 am to 4 pm. Whether you're there at 9 or 10, and close at 2, please book the entire day. This is to avoid double bookings as many vendors don't scroll forward through the day to see if the hut they are interested in is booked later in the morning. Only exception is if you have someone you want to split the day with, then you can book from 8 am to noon as one booking, then 12:01 to 4 as the second.
There are two types of huts; 1) Concession where there is a fold down table attached to the hut itself; 2) Walk in huts where the two doors open and you can set up your own table etc inside or outside the door and your inside with your goods around behind you. Again totally up to you how you want to set it up.
Once you go onto Skedda there are actual pictures of the huts so you can get a better idea. If you're our way and want to have a look.