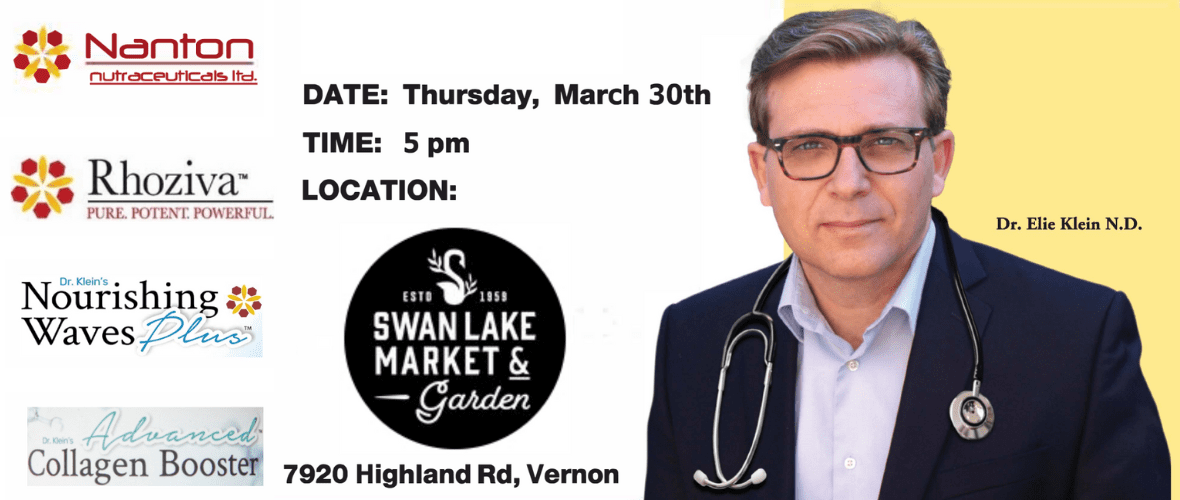 March 30
@
5:00 pm
–
6:00 pm
Dr. Elie Klein ND is a clinician with interest in risk factors for heart disease including stress, hypothyroidism and diabetes. Dr. Klein authored four books on topics related to heart disease, thyroid health and cognitive and mental well-being.
Elie Klein N.D., has been a clinician for close to 20 years, as well as educator, speaker, scientific officer for Nanton Nutraceuticals, and author of the book "Read This If You Have a Heart – the Book on Lowering High Blood Pressure, Cholesterol and Blood Sugar Naturally"
We are fortunate to get such a high profile expert in Dr. Klein, events & seminars he hosts generally garner a payment, but we are lucky enough to have him come by FREE OF CHARGE for our wonderful community.
Learn How To:
• Stop excess hair loss in 15 days
• Cultivate new hair re-growth
• Relieve joint pain & Slow down skin wrinkling
• Quickly lessen the feeling of stress & Renew your energy levels
• Restore good health & Slow down aging
**Seating is limited to 35 please RSVP below**
Free
Please RSVP below. Limit of 35 attendees.